Bullbuster USA
"Thinner, Stronger, Better…Bullbuster"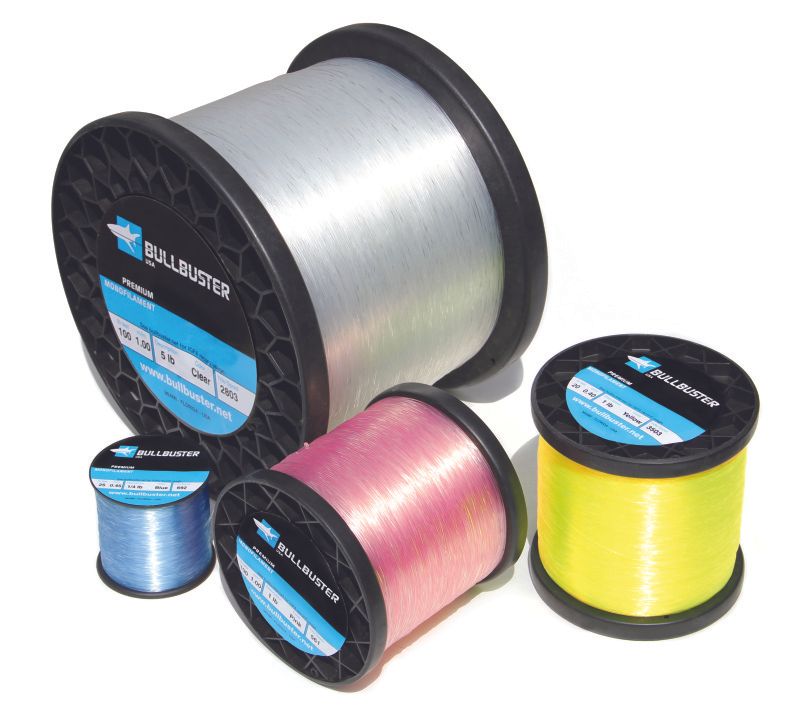 Bullbusters full line of products are now available online at
www.bullbuster.net
.
Be sure to check out Bullbuster featured in Florida Sportsmans August issue.
Bullbuster Sticker Solution:
On each spool of Bullbuster you will find four stickers which you can place on your rod or reel. These stickers have the lb class rating of the line you are using and a space for you to write in the date that you spooled your rod. With Bulbuster, at a glance you can see what line you are using and be concious of when it is time to change it.
Bullbuster FAQ:
1) What makes Bullbuster unique from other lines?
Bullbuster monofilament fishing lines exhibit low memory, are soft and flexible, have high abrasion resistance ratings, and were designed with an emphasis on wet knot strength. When compared to the competition, our fishing line has high tensile strength to diameter ratio, so that you can pack more line on your reel. Each spool of Bullbuster comes with four stickers to place on your rods or reels, that help you keep track of when you spooled your reel and what # class fishing line you spooled it with.
Bullbuster provides the best price for premium grade monofilaments on the market. Customers receive distributor pricing on our lines meaning that they buy them for the price that the stores buy them for. Its like buying Ande Monofilament from Ande or Moimoi from directly from Moimoi. At Bullbuster there is no middleman, you buy directly from Bullbuster via Bullbuster.net. Customers should expect to spend significantly less, including shipping, then they would in their local tackle store.
At Bullbuster, we understand that our customers are ready to get back out fishing. Our company has a strong commitment to making our online shopping experience as convenient as possible. We have a 24-hour shipping worldwide shipping program Monday through Friday, which means that products will be shipped within 24 hours of a confirmed order. Customers should be spooled up and ready to fish in no time.

2) Why should I use this instead of other monofilament lines?
1) Guaranteed Quality
- very few companies in the world can achieve or products level of consistency
2) High Tensile Strength to Diameter Ratio
3) High Wet Knot Strength
4) Soft and Flexible With Low Memory
5) Extremely High Abrasion Resistance
-unique surface characteristics allow for this feature
3) Stickers that help you keep track of when you spooled your reel with and when it is time to change it.
4) Distributor pricing (Bullbuster is the best priced premium grade monofilament on the market)
- Our quality is never compromised because the savings is not on the product but instead of its method of distribution.
3) What's the price range?
Prices at
http://www.bullbuster.net
:
1/4Lb spools: $5
1Lb spools: $15
5Lb spools: $75
4) Is there a unique process used to create the mono?
Bullbuster monofilaments are produced with special machinery that produces unique surface characteristics for better abrasion resistance. The machinery has advanced melting and mixing technology to achieve homogenous mixing of various performance enhancing additives with polymer matrix that result in higher level of consistency of the product. An indication of the processes capability is in Bullbuster lines narrow diameter tolerance. Very few companies in the world can achieve this level of consistency in this gauge, let alone produce this gauge monofilament. Apart from the standard tests, field relevant tests like hauling stimulation tests are done to ensure trouble free hauling at the usage.
5) What pound-test ranges do you offer? And in what spool sizes? And what colors?
Bullbuster offers:
1/4Lb spools :
12lb test (1557 yards): clear, blue, pink
15lb test (1144 yards): clear, blue, pink
20lb test (876 yards): clear, blue, pink
25lb test (692 yards): clear, blue, pink
30lb test (561 yards): clear, blue , pink
50lb test (286 yards): clear, blue, pink
1Lb spools:
15lb test (4576 yards): clear, blue, pink, hi vis yellow
20lb test (3503 yards): clear, blue, pink , hi vis yellow
25lb test (2768 yards): clear, blue, pink, hi vis yellow
30lb test (2242 yards): clear, blue, pink, hi vis yellow
50lb test (1144 yards): clear, blue, pink, hi vis yellow
80lb test (692 yards): clear, blue, pink, hi vis yellow
100lb test (561 yards): clear, blue, pink, hi vis yellow
125lb test (359 yards): clear, blue, pink, hi vis yellow
200lb test (194 yards: clear, blue, pink, hi vis yellow
5Lb spools:
15lb test (22878 yards): pink, hi vis yellow
20lb test (17516 yards): pink, hi vis yellow
30lb test (11210 yards): pink, hi vis yellow
50lb test (5720 yards): pink, hi vis yellow, clear
80lb test (3460 yards): pink, hi vis yellow, clear
100lb test (2803 yards): pink, hi vis yellow, clear
125lb test (1794 yards) : pink, clear
200lb test (970 yards): pink, , clear