Friday 4/19
Like my last report, I put together a video report which you can find at the end of this written report.
Now I know that usually when you see a report from you you expect to read "Galveston" or "BHP" in the title, but this time we decided to check out a different spot. Regardless of where we went, our mission for this trip and the next couple of trips is to go after the big female Bulls. After driving around for what seemed like forever trying to find the beach access, we finally met up at Bryan Beach with Juan, who had already been out there fishing for a bit. We set up camp and decided that since it was late we'd just put out the Blue and Gold Avet. A sheepshead was taken out about 400 yards on the Blue 80w and a huge section of Cownose we've had with us for a few trips now was taken out around the same distance on the Gold 80w. Since it was so late we just decided to rest and hope a rod would go off.
Saturday 4/20
At some point during the night one of Juans Avet got slammed by something, but it ended up dropping the bait. Probably a Sandbar, it was just nice to hear a rod going off at a new location. Saltwater is saltwater, but you can't help but be a little skeptical about new places until the rods start going off.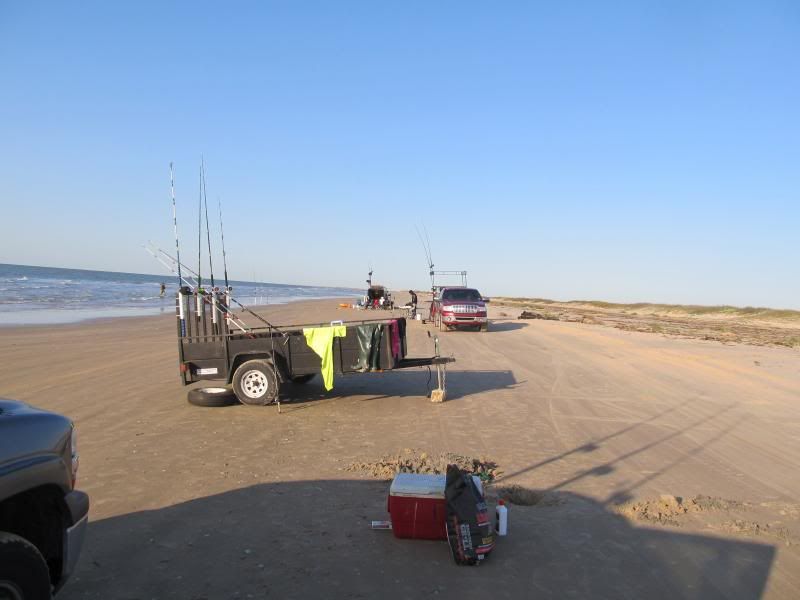 Around 8AM I heard a rod singing in the distance. It was Juans 30w going off! The fish actually put up a really great fight against the reel, having no problem taking some decent runs against the drag from the reel. After about 15 minutes the fish finally made its appearance, a Sandbar, nice. To my knowledge this is the first time we've seen one in person, at least of this size (I've hooked up on a nice one before). Like most people say they are, the fish had a lot of attitude. The hook was taken out, and she was tagged and released. She ended up going 6'8" with a 45 inch girth, so give or take around 200lbs.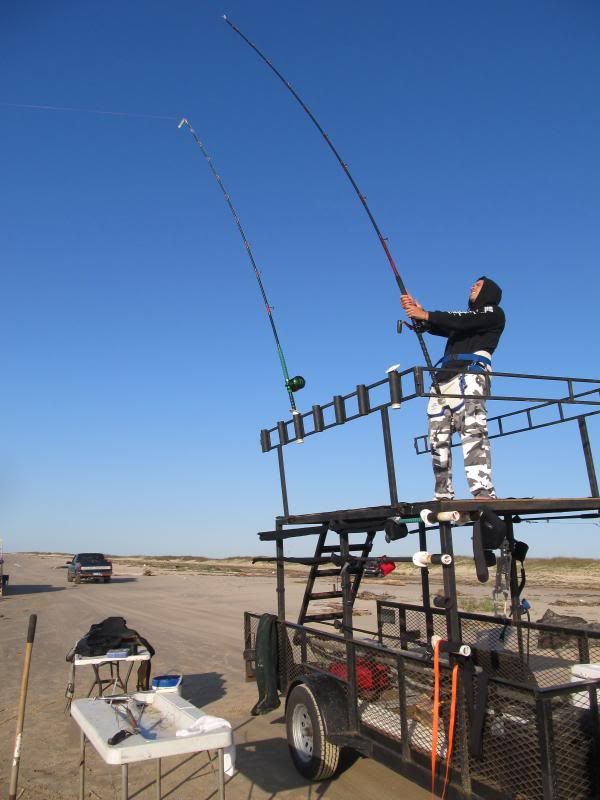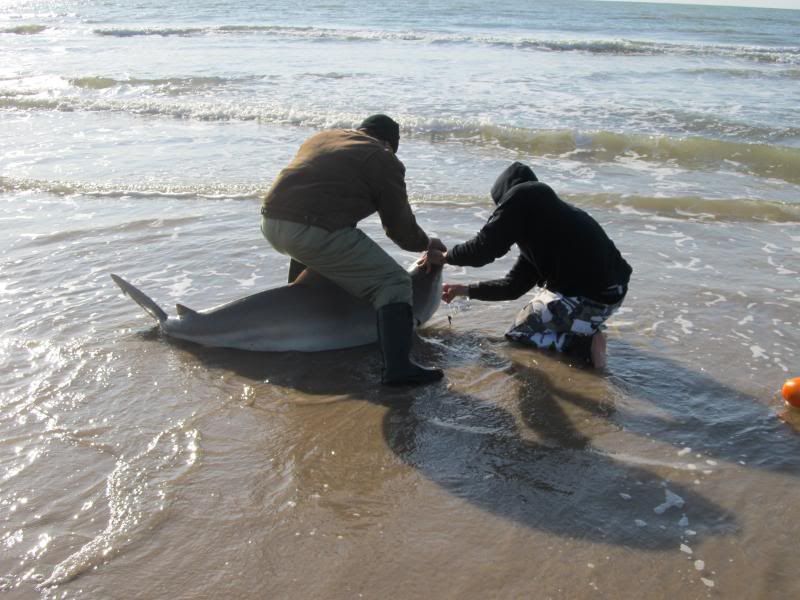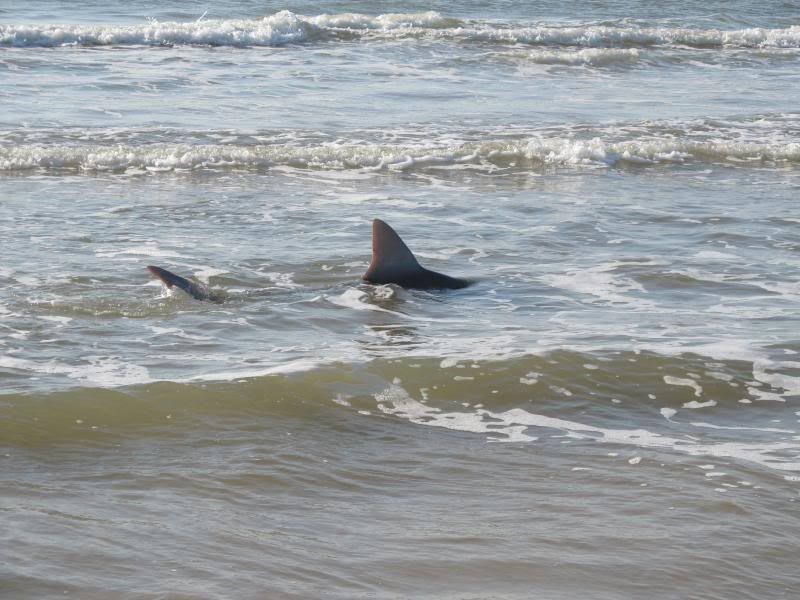 With the sun up and a nice fish already on the beach, it was time to re-deploy baits. The Gold 80w would end up getting ran out about 1000 yards (BHP or the beach, we make the same kind of drops) with a big ol Jack head. The Silver 80w got ran out around 1000 or so yards with half of a fairly fresh southern ray that was caught on our previous trip, and the Blue 80w got ran out around 600 yards with a nice sized Cownose.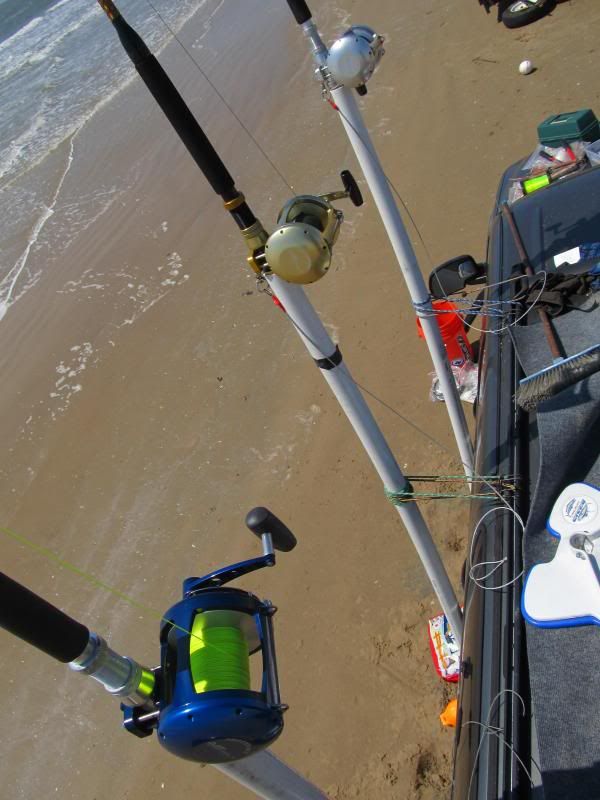 Around 12PM or so the high tide finally started to come in.
Okay, so if it wasn't for this part of the trip, I probably wouldn't have posted a report. Maybe a video or something, but not an entire report.
My brother decided to take a sheepshead out on his 6/0w. I'm on top of the car looking over my brothers reel as he runs it out. BUMP. The Silver 80w rocks, and then goes slack. I didn't want to just turn the clicker on while the 6/0 was in free spool, I'd rather just put on the drag enough to where he could run the bait without me having to hold the reel. Well, the star drag on the 6/0 wasn't turning at all. I look over to my right and line is slowly peeling off of the 80w. I scream at my other brother (who joined along for this trip) to get me the pliers. I finally get the drag right but by that time my brother dropped the bait, so I had to reel in to set the weight. After that's done I grab the 80w and I start reeling like a mad man and finally catch up, but I don't feel much. Then something starts making short burst out towards the ocean. I get in the slack and get in some solid hook sets. I'm standing on top of the car with line slowly peeling off the 80w while my brother is on his way back in, just looking at me wondering why I'm setting the hook on his reel
He finally gets in and is able to get a solid hook up on the fish. With about 40lbs of drag the fish would still make short burst throughout the fight, and almost pulled my brother off the top of the car (yes, we intend on making a shark rack sometime this year). For the most parts it seems to be a lot of dead weight though with heavy head shakes.
Hmm, we know what that is. The fish is being smart and using the current to its advantage, so it's running right the whole time. As always, these drops take forever to reel in. Well, we finally get the shark to around the 3rd bar or so when one of Juans 50w starts screaming. Again, the high tide is coming in, which I guess was bringing the fish in. However, as I prepared to go in the water, SNAP, the 125 mono gets cut off.
Losing that fish hurt, because in the words of my brother, "I've fought some nice fish, but that one had me on my toes." That's part of the game though.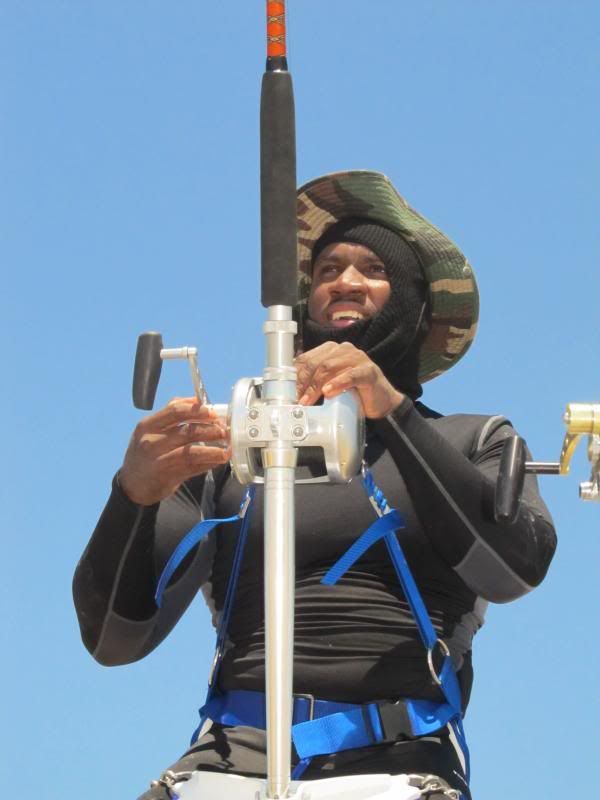 I head over to Juan to see what's he has going on but it just seems to be a bunch of dead weight. After what seemed like an eternity he finally gets the fish to the bar and it spits the bait. Now, initially I thought that maybe the lines got caught up and maybe he was dragging in the fish we had just lost; but a nice sized bite mark out of the ray he had out would prove otherwise. So far the fish seem to be winning for this trip. Dang, well it's still early, so we just need to get some baits out.
It wouldn't take long until the next bite.
No more than an hour later we had another pickup. I don't really remember what my brother was doing, but I had just decided to go hop up on top of the car to get some slack out of the lines and was only halfway up the ladder when the Gold 80w gets to screaming. I scream at my brother to come over and get his rod and the reel is going off the whole time.
He gets harnessed up, gets some really solid hook sets, and gets to fighting the fish. Unlike the last fish we had hooked up, this one was actually very feisty for a majority of the fight, so I'm not positive if it was a Bull or not. The reel was putting out give or take 40lbs of drag and the fish would still make small runs after every bit of line gained. Unlike the last shark, this one wasn't using the current, it stayed straight for the most part, which made me hopeful we'd land it. That's one thing about Bryan Beach, at least where we fished; the water is shallow and there is some structure out there. So I was afraid if the shark started running right it might get cut off again.
Anyways, after fighting the fish for a while and getting it within 50 or so yards of the beach, I went to leader it when it spat the bait! Not this crap again, we saw a lot of this happening during our last trip. The ray had some teeth marks in it, but whatever it was didn't really grab it right for the hooks to set. Once again, that's fishing.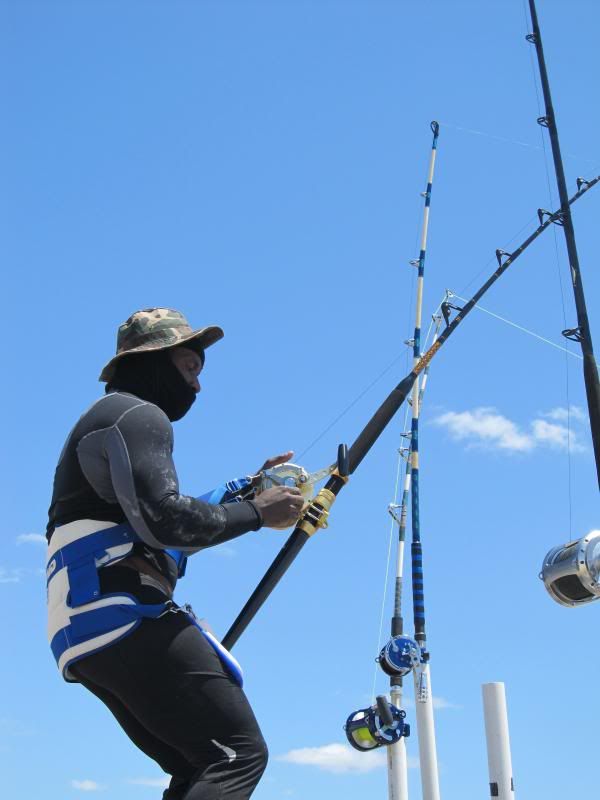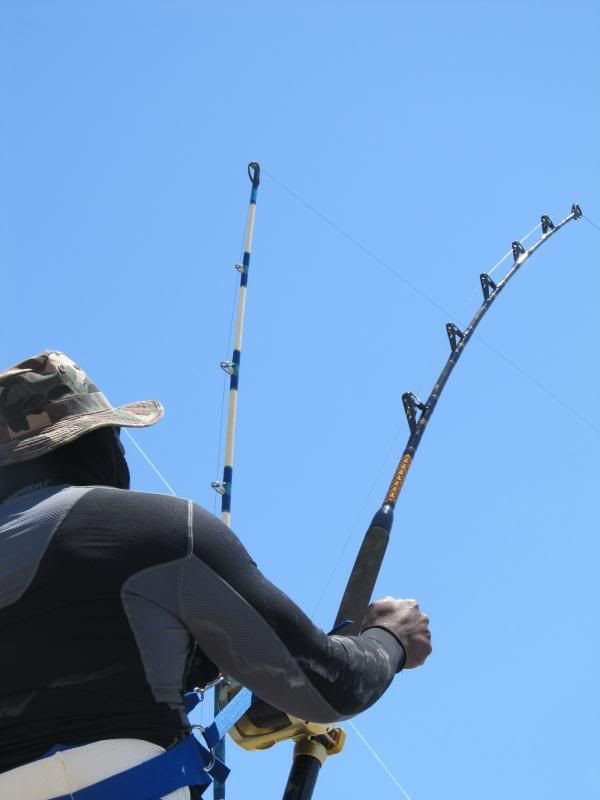 After losing two nice fish within an hour of each other we did have high hopes for some more hookups, but things kind of died down. Baits were re-ran, using the other half of the Jack and Cownose. There was a lull in action for most of the day, and not even fish in the surf were really biting. A few Gafftop were caught though, and I managed a nice little slot red. Nothing much really happened after that.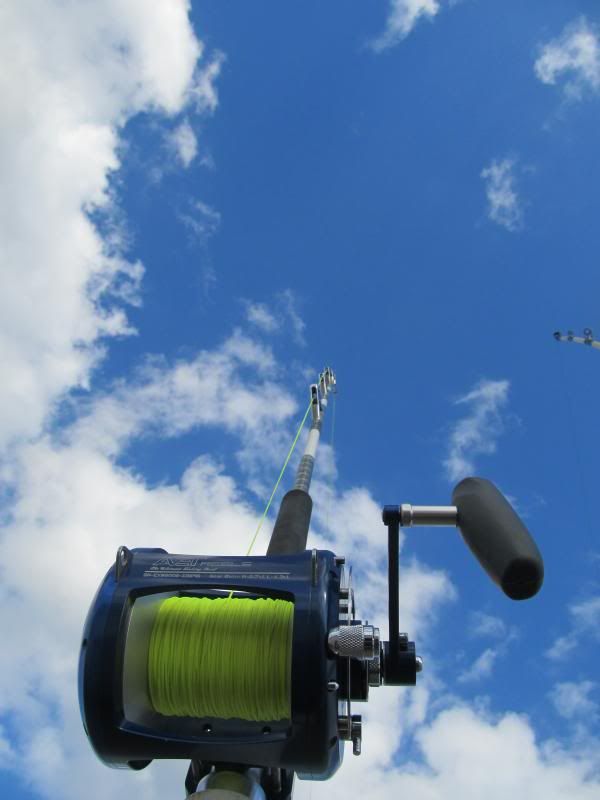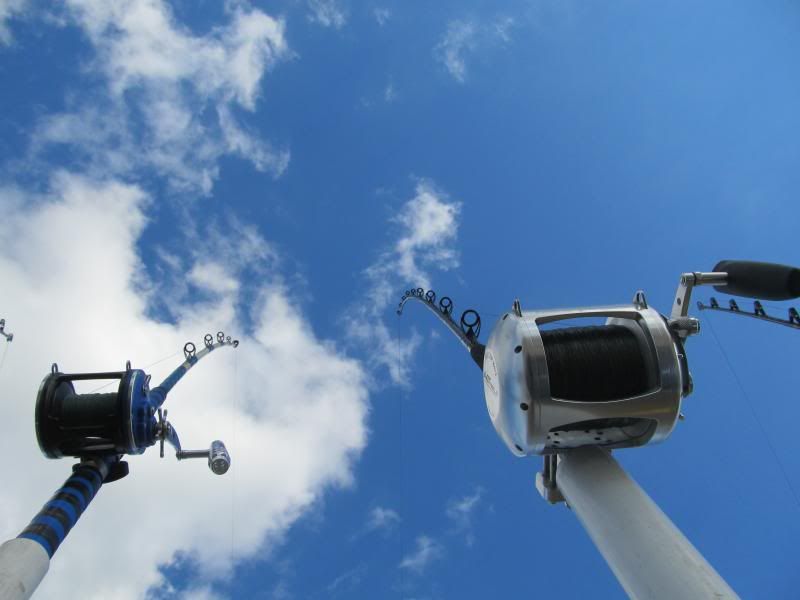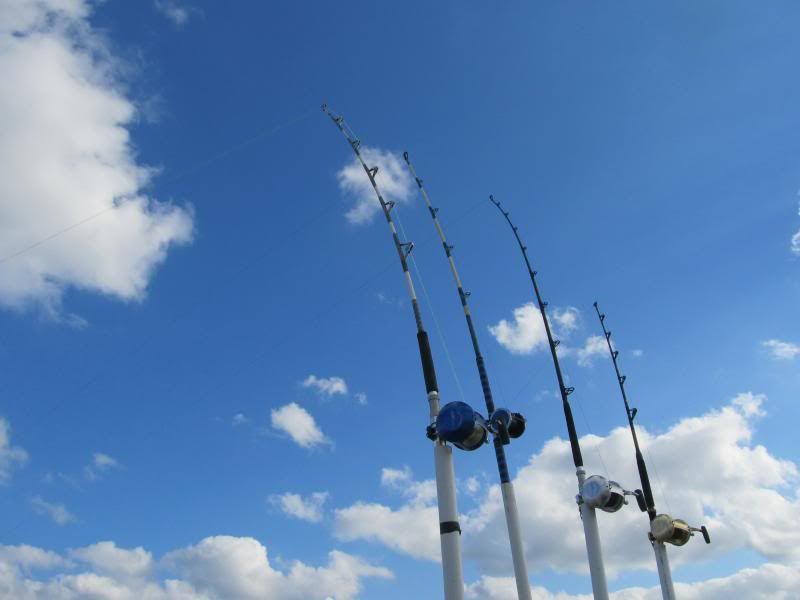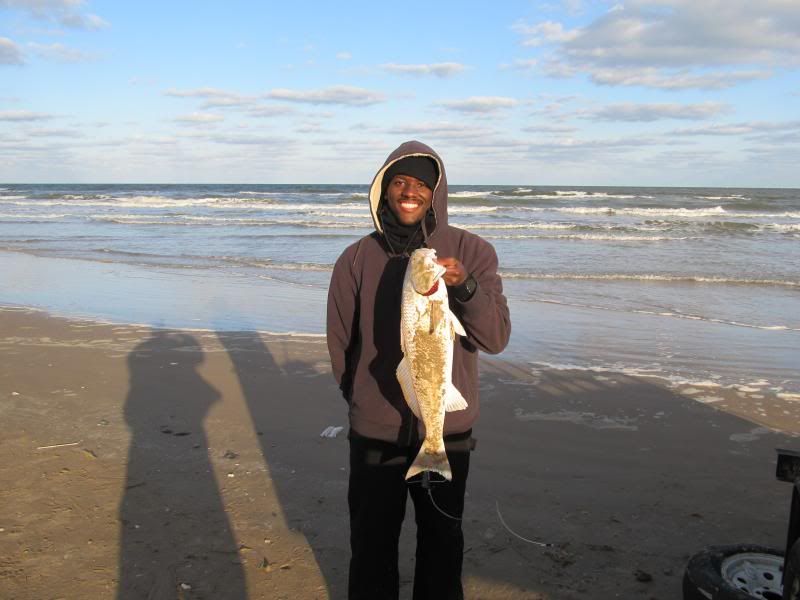 The sun finally set and we were hoping for some night time pickups. Eddy would end up showing up later on that day as well and we just spent most of the day with cast outs and checking over the yakked baits.
The time stamp on my Contour is inaccurate, so I'm just going to assume this happened on Saturday night instead of Sunday morning. Anyways, it was night time at around 10PM or so and my brother had just fallen asleep camping out next to the rods. We actually bought some shark alarms, so this would be our first time using them. Well, I was sitting next to Eddy trying to explain to him how a shark alarm works when, you guessed it, the sound of one pierces through the air. It was my brothers Silver 80w hauling off.
He gets harnessed up and gets some really solid hook sets on whatever he's hooked up on, and gets to fighting the fish. I don't really think this fish was fighting as hard, but it did take a 15lb section of a Jack tail and it was dragging a 3lb weight. We still assumed it to be a five footer or so. My brother finally got the fish to the bar where it just didn't want to budge. At first we thought maybe the weight was just dragging, but my brother eased off on the drag, set the rod in the holder, and it started moving out again. I got into the water and prepared to leader the fish when once again, the fish ended up spitting the hook. The leader was a tangled mess and the Jack was annihilated. Eh, that's fishing, but this is the 6th time I've seen fish hold onto a bait up until it got within 50 or so yards of the beach.
Sunday 4/21
That would pretty much end up being it for the night, and for the trip. The current picked up heavily overnight and my 80w got cut off. It sucks to have lost those fish, but that's fishing, and we'll still be targeting those mama Bulls and big Hammers and whatever else is in the water for as long as they're here.
Well, yeah, that's it haha. I figured that considering the fish we did hook up on, it might be report worthy.
Until next time!
~Peace~