We decided to hit up the beach and fish hard for a few days to see if we could produce big. We got down there on a Wednesday night and decided to just rest before hitting up the bait shops in the morning and setting everything up.
Thursday 5/16
The water was choppy, very choppy. It wasn't past my bros comfort level for kayaking, but it was still obvious it would be a pain. Weed isn't that bad yet, but I'm sure that things are about to get a lot worse. We lined up the reels and prepped our baits; a huge cownose my bro has been saving for his Gold 80w, Southern on my Blue 80w and a Jack head on the Silver 80w. The only real problem with the weed was that when my brother started yakking out baits, it would cause the line to drag. Besides that, it wasn't pulling weights lose or anything. Oh and by the way, we have a shark rack now! Long gone are the days of pvc pipes and bungees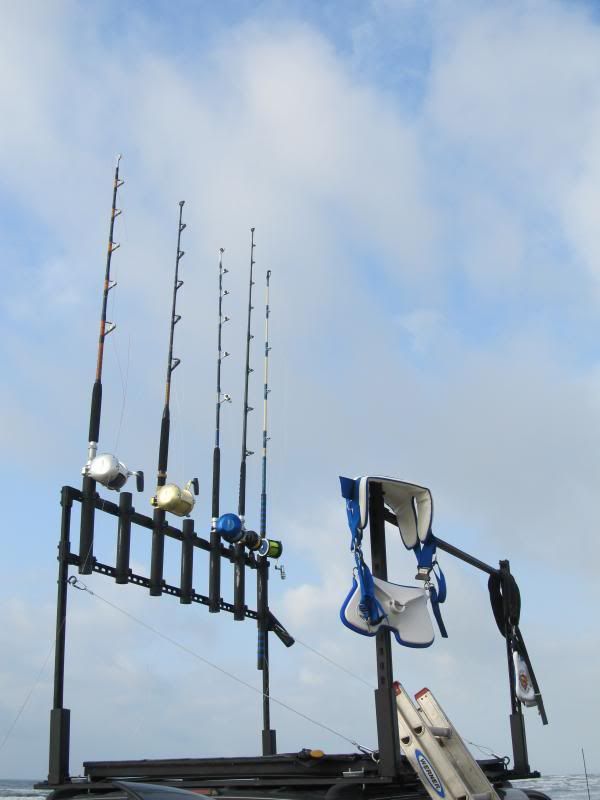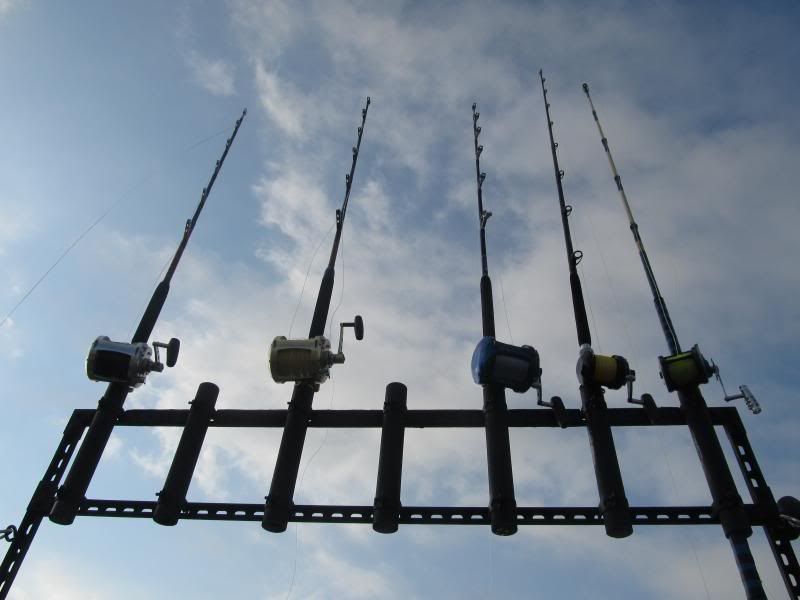 Around 10AM the Gold 80w started to slow roll. Keep in mind this was a huge bait with a 5lb lead weight attached to it, and the fish just swam along like nothing was wrong. Anyways, my bro got harnessed up and went to reeling. There wasn't any resistance up until the first bar, where the fish got frantic, started fighting back, and then came lose. It turns out that the fish had just held onto the bait for hundreds of yards, and finally bit through when it saw that bar. Eh, that's fishing.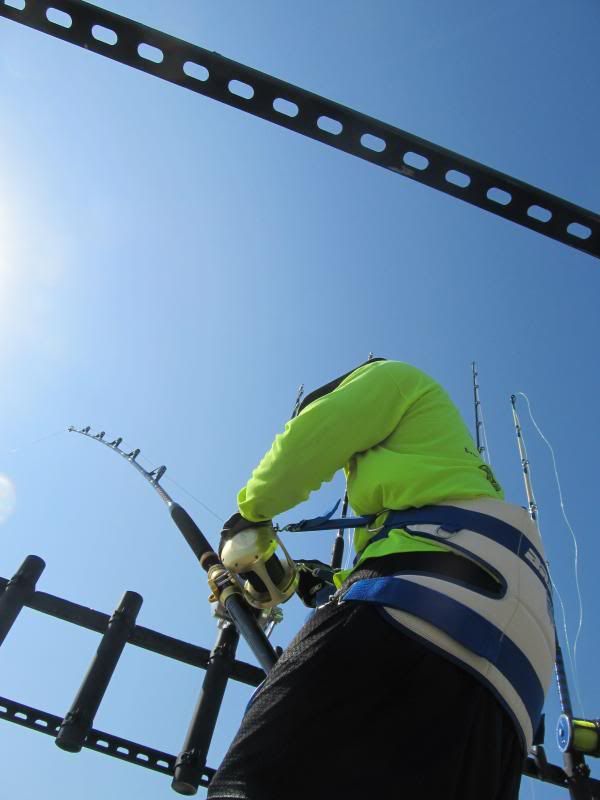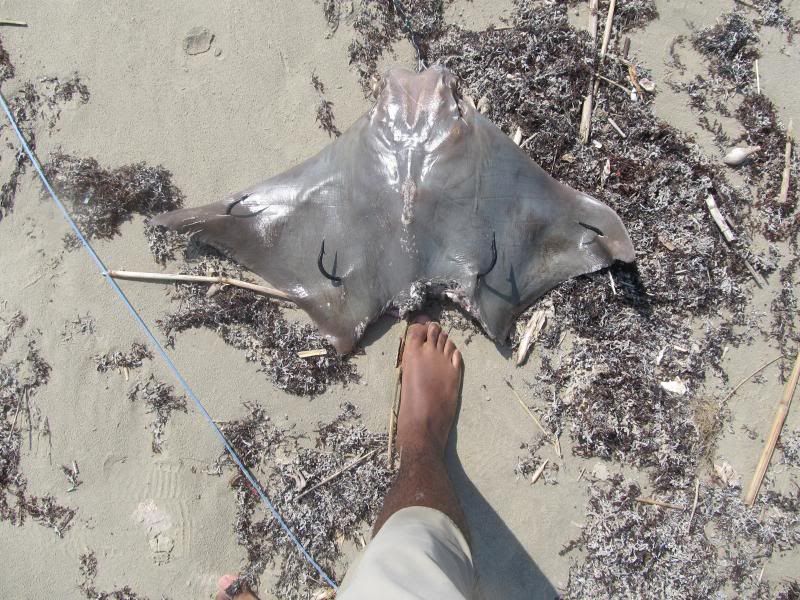 The ray was ran back out and we let the baits sit while waiting for the next pickup. My bro also got a 30w, so that was ran out short.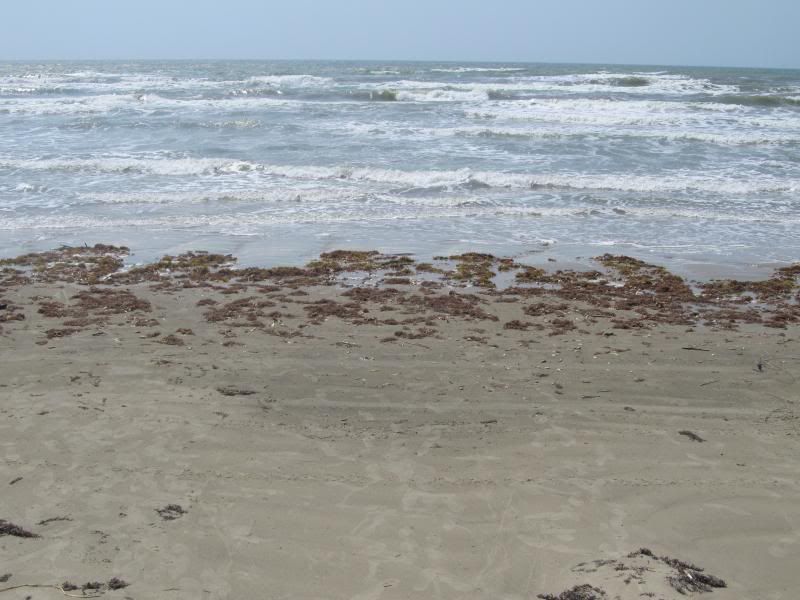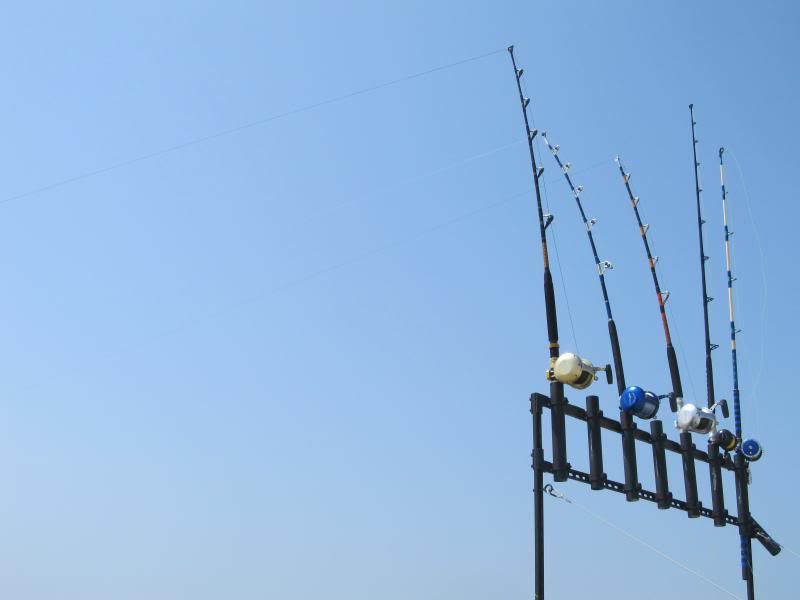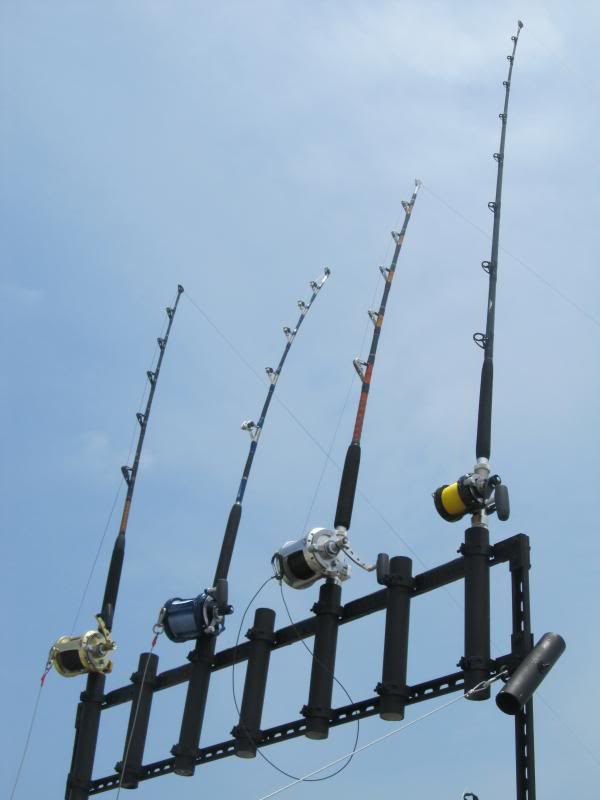 We were working the surf and were both catching the occasional whiting and we saw plenty of Mullet, Skipjack and Spanish Mackeral jumping in the surf. We had 3 surf rods out. One had Whiting and one had Mullet. I waded out to about chest deep water and lobbed out a piece of squid on the third surf rod, hoping for a big ray. Once I got back to the rod holder I went to go get seaweed off of the line when my brother noticed the lines were crossed. He picked up the rod to check it out and it started taking off. When I went to cast the bait out I stepped on what I assume was a ray so I figured that was what he was hooked up on. However, after a very nice fight dragging us down the beach we saw fins break the surface. A nice shark on squid; it ended up being a 5'6" Spinner shark, which is my brothers biggest Spinner and possibly his first (maybe we have caught them in the past and never realized it).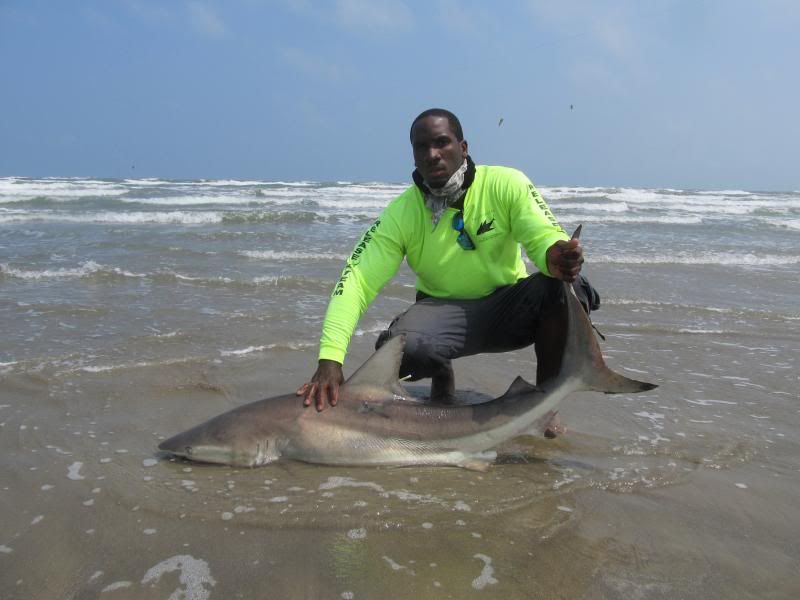 At some point during the day, my brother was watching over the reels and reeling the slack out of them. He had just stepped down when he looked over and saw his Silver 80w start to bow over a bit. I was minding my own business when I heard the screaming of an Avet unlike anything I've ever heard before. I turned around, the rod was bowed over, the rack and the entire truck shook, the rod loosened than bowed over again repeating the process, and then the connection came lose. This all happened within about 5 seconds, but whatever it was stripped off about 50 or so yards in that time frame. Whatever it was, I hope it sticks around.
Around 8:30PM, my bros Gold reel with the big cownose got picked up again. He got a solid hook up and it was fish on. It ended up being a nice little 5'2" Bull shark.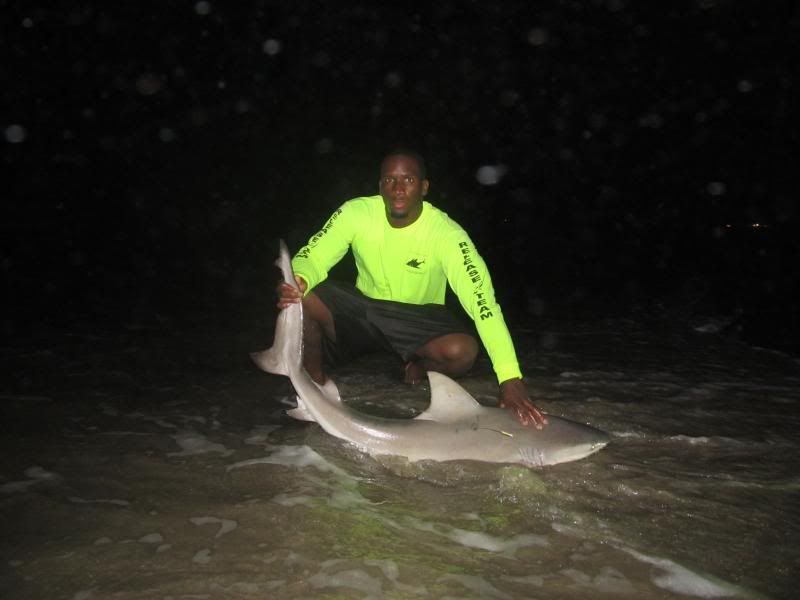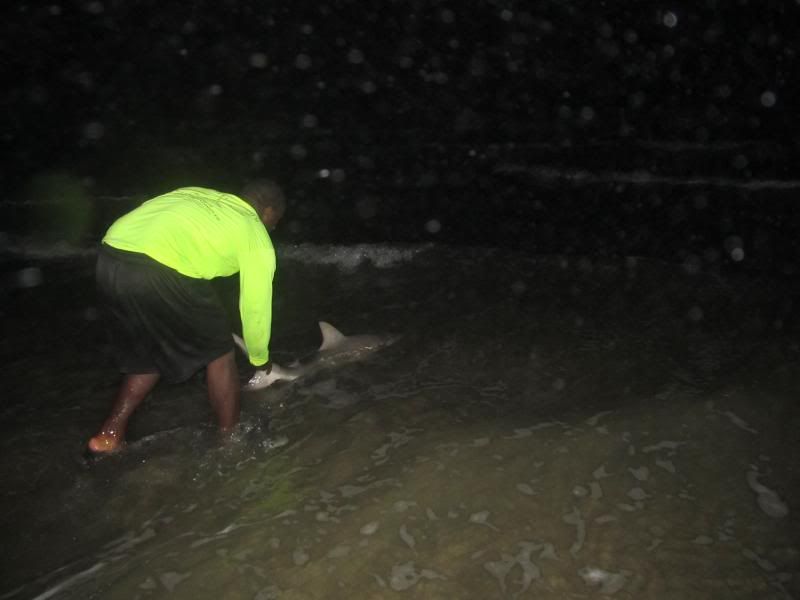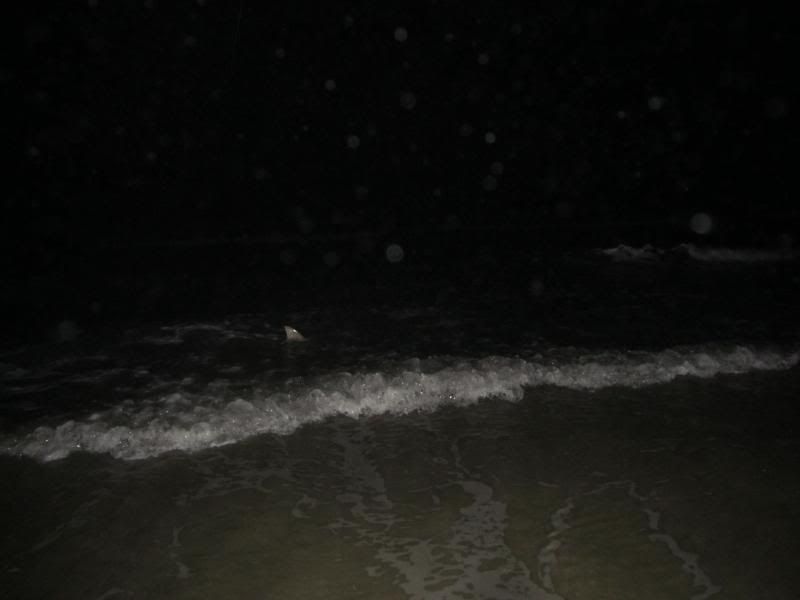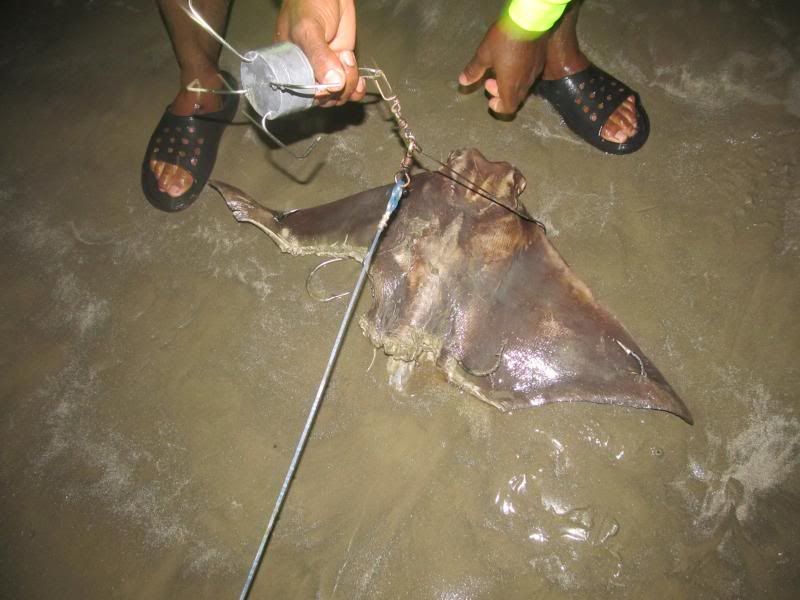 Around 10:30PM my brothers 4/0 that had a piece of Mullet on it started running. After a short but intense fight I went out to leader the fish and it ended up being another nice little Spinner shark. She didn't stand a chance against the 4/0 though, so she was extremely green, hence the distant picture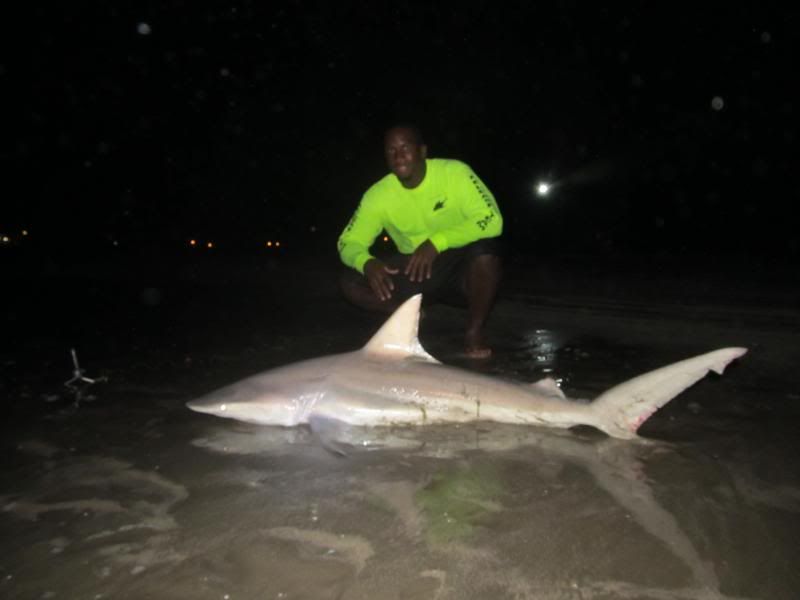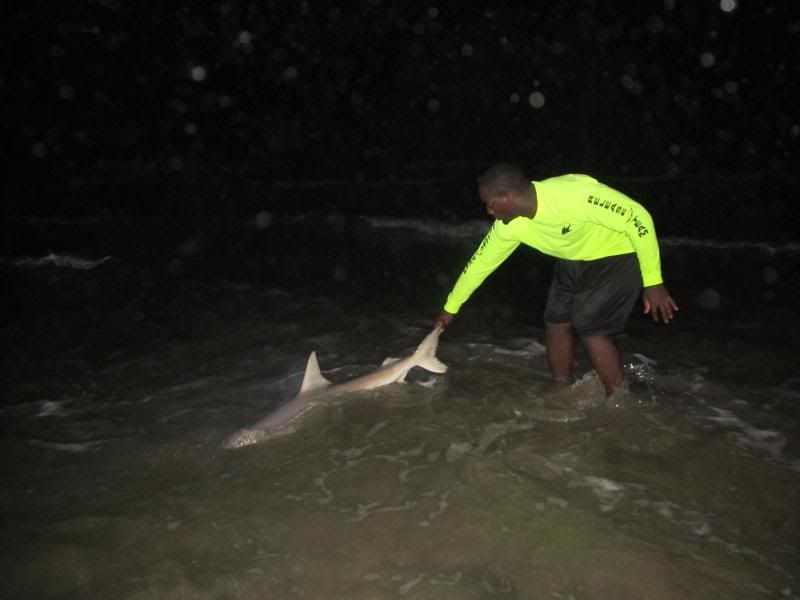 Friday 5/17
My 80w ended up being the lone rod out this night. When I went to reel it in I got broken off, which was the first time the rack proved just how useful it was. I would have went flying off the car if it was the old setup.
This really just ended up being a day of running around. We relocated, didn't like the way that spot was looking so we moved back and worked on getting baits out in the rough conditions. This would just end up being a frustrating day as cut offs started to add up (a combination between structure in the water and an abundance of sharks and maybe spanish macks running into lines). Before long my 80w was once again the only rod out.
Saturday 5/18
I woke up before sunrise to find my line had been taken down the beach due to seaweed. After reeling in I was broken off once again due to frays in my mono from rubbing on the sandbar.
We ended up fishing the surf most of the morning trying to see if we could stock up on bait, which really just ended up being Whiting. Someone next to us caught a nice 25-30 inch black drum, but that's about all we saw being caught around us.
Around 1PM a group of fishermen stopped by to chat with us when I looked up and saw my bros Silver 80w bowing over. He got up there, set the hook and it ended up being a 5'5" Blacktip that hit a decent sized cownose.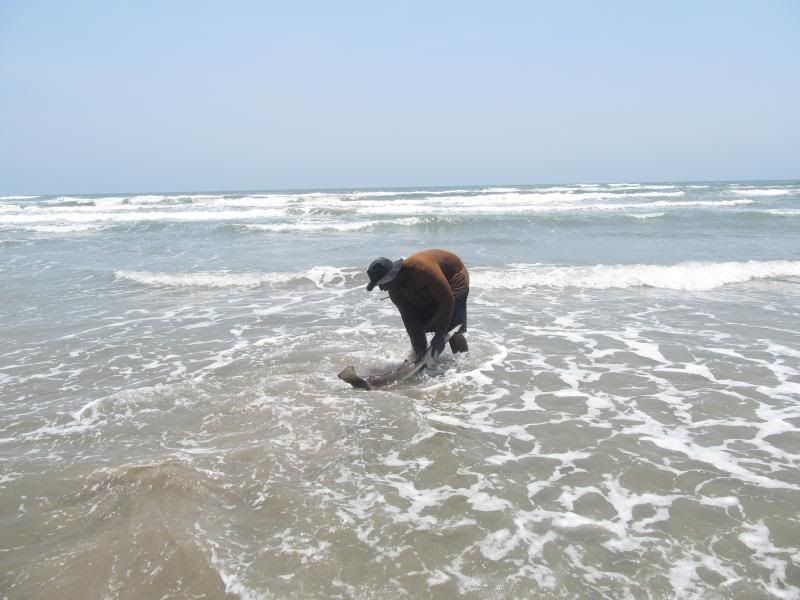 We had some sharks run into our lines and cut us off, indicated by our reels taking off before slacking up. This is the third trip in a row where my reel has gotten cut off, but it's still early in the season. That would end up being it for the trip. We were going to leave baits out for the night but some seaweed that had some braid on it ended up coming through and cutting off the last 80w that was yakked out.
It was nice to get some sharks this trip, it just sucks that once again we lost the ones we were really after. Like I said though, it's still early in the season, so we have plenty of time to get at least one of the beast we've been missing.
Video Report
~Peace~