Long story short, there were some epic catches in Texas over the weekend, and I'm not just talking about where we were fishing. I feel like it's been a minute since we've posted a report, but I just didn't have much report worthy. We fished the RMH tournament and lost hundreds of dollars on line and gear due to constant boat traffic and random cut offs. Then we fished a week after the tournament and cut offs were the name of the game. The cut offs weren't random either, most of them were from fish swimming into our lines. A line would start bumping or running a little bit, then go slack. If we were kayak fishermen that would be great, since it means the water is active. It's a different story for shark fishermen though. Here's some footage I had from the trip back in June though if anyone is interested.
Now to the actual report.
Friday 7/12
After a few very testing months of fishing on the beach we finally decided to head back to Bob Hall Pier. We still want to land a 10 footer from the shore, but we hadn't fished the area in a fair amount of time and decided to head down there.
Me, both of my brothers, Stephen and Philip, and my brothers co-worker, Luke, arrived at our destination around 8 o'clock or so. We met up with Roy and his crew who had scored some fresh Rays and Jacks throughout that day and the previous day. After setting up on the left side of the T Head we decided that the water was calm enough to at least yak some baits out short. It was pretty much glass, the kind of conditions that you only seem to see a few times a year in Texas. These were quick baits, so my bro rigged up a fresh ray wing and I threw a fresh whiting on my 80w. Our baits pretty much just sat the whole night but a kid on the left side of the T-Head ended up getting hit. I wasn't watching him the whole time but it ended up being a 6'7" Bull on an Avet 50w I believe. I snapped a quick phone picture of it. Interesting tidbit; when we released the shark someone was around the pier kayaking baits. The shark actually bumped his kayak and followed him all the way back to the beach.
Besides that I don't remember too much going on that night. Weed was in but it wasn't heavy. We dozed off and waited for the sun to arise…well, I didn't really get any sleep. Guess I was too stoked. I'll explain why in a second…
Saturday 7/13
I was in and out of being awake, dozing off for a few minutes, then waking up and readjusting in the uncomfortable chair. I believe it was around 2:45AM or something like that. I was sitting in my chair half awake and half asleep when I glanced over to the left and saw someone hooked up on something. Once you become accustomed to being around shark fishing you tend just check out whether someone is hooked up or not, and unless it's obvious it's a massive shark you just go on about your business and check it out once they land it. I walked over to see what was going on and one of the fishermen, Daniel, had a Penn International 50 that was in a losing battle against something out in the ocean. I'm mad at myself for not whipping out my Contour, but since the reel looked like a 30 or smaller to me I figured "it's a smaller reel with less drag, might just be a 6ft Bull." The reel came very close to being emptied though. It had about 600 yards of 80lb mono and a pompano dropped out about 200 yards. The reel was locked down and this fish was cruising. Should have known it had the tell tell signs of a Tiger. Pulling drag effortlessly while moving at a steady pace. Not too slow, not too fast. After coming close to seeing the arbor on his reel Daniel finally started gaining line back. It was touch and go from there on out and the fight was really only about 15 minutes, but the fish moved when it wanted to move.
The shark finally made its appearance. I looked real hard, and the first thing I thought was "that's not a 6 footer," and after the shark surfaced my second thought was "…tiger?" I went to go wake up my brother and Roy so they could help with the landing net. After some maneuvering which involved the shark getting wrapped around a piling, we got her under control and landed. Got the hooks out and she taped out at 9'3" with a 42 inch girth I believe. Tagged her and sent her on her way. We watched her swim off into the night and I realized that was the first Tiger off of BHP for the year (I'm sure some have been caught down PINS that we haven't heard of).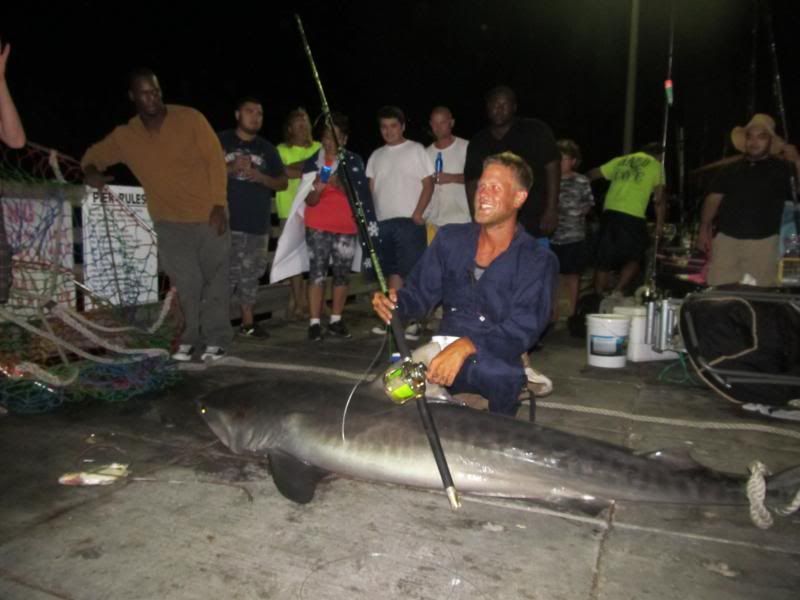 I was pumped now seeing a massive Tiger landed. This was Daniels biggest fish and he was just barely getting into serious shark fishing, so I'm sure he's hooked.
After a restless night the sun finally started to arise and it was time to start rigging up baits to bomb out. After having our baits ready to go we just chilled for a while waiting on everyone else. Johnny was messing with Roys 80w trying to get some seaweed off of his line. I don't remember what he was doing, but I can tell you what I think happened. I think a shark was circling that bait, and I think when Johnny started shaking the line to get seaweed off, that bait moving caused a reflex reaction from the shark. All I remember is seeing an intense look on his face as he looked over and said "Roy, get your rod, now." He turned the clicker on and line was peeling off at an incredible rate. Within less than a minute it seemed like the shark had burned off 100-300+ yards of line in no time. I grabbed my camera and was able to capture a bit. The rod was handed off to my brother to keep pressure on the fish as Roy got harnessed up, when the fish took a couple more hard runs. Once harnessed up the fight was on…for a while. Unfortunately, when the fish started to run again for the 4th time, the line got cut off. We don't know if it was a mack or what, but it sucked to lose that fish. It was bitter sweet though, because it was a great start to the morning.
Baits were taken out various distances, each about 500-700 yards for our reels while everyone else dropped about 200 yards behind a big sandbar. Here's why we didn't attempt to make any thousand yard drops just yet: boat traffic. I'm starting to wonder if they built a new boat ramp or something near Bob Hall Pier, because when we first started fishing here we wouldn't see this many boats, not even during the summer. It was ridiculous. We basically spent the entire day looking out for boats and having to slack up our lines to avoid getting cut off. Regardless, a few people, even those with the baits dropped short, did get cut off. I got tangled with a sail boat but luckily I didn't get cut. Boats and baitfish swimming into our lines have been our worst enemies this year. I understand that a lot of them don't know anything about Land Based Shark Fishing, but it's ridiculous how close some come having the whole ocean at their disposal.
Anyways, throughout the day people would catch plenty of slot reds, black drum, stingray, small Jacks, spadefish, Spanish mackerel, sheepshead and more. My brother got his new Avet 50w hung up on a patch of tangled leaders and line, and once he got all of that stuff in it was about time to change out baits and yak everything out again. We decided that we would just bomb out baits once it started to get dark to avoid boat traffic. I decided to leave my line out though. They kept telling me "fresh bait is the key," "you should reel it in and check it." In my experience, Jack can last for an entire trip. Skipjack and Bonita will get torn up, but besides a Stingray, Jack is one of those baits that can sit for a while. They had a fresher Jack in the ice chest with all of it's color and everything, but despite urging me to change baits I had the upmost confidence in what I already had out.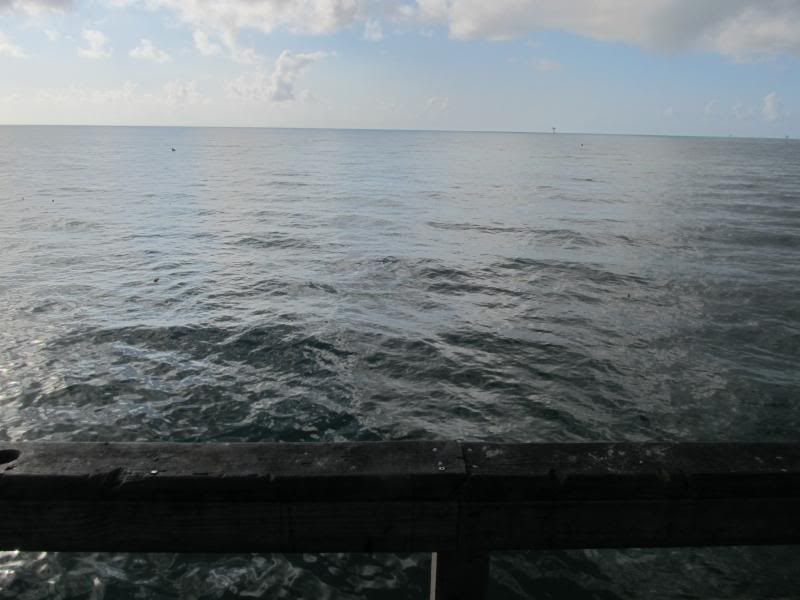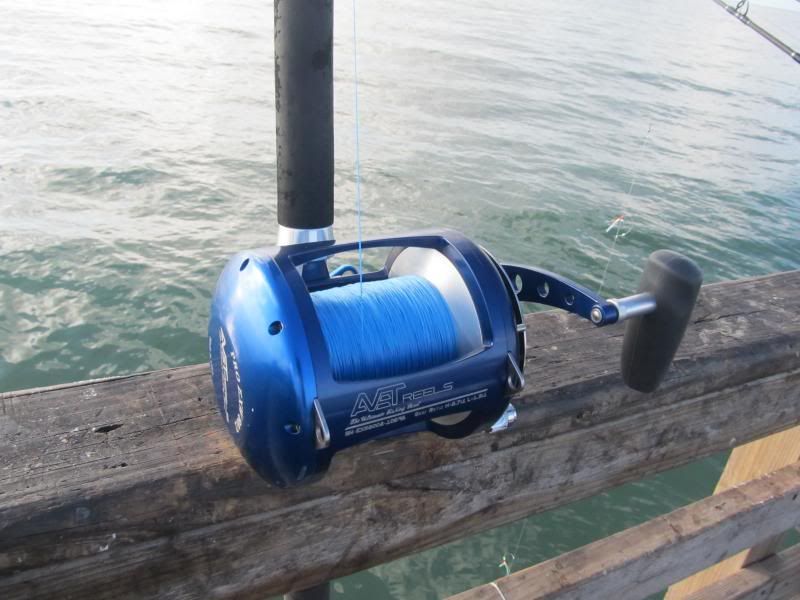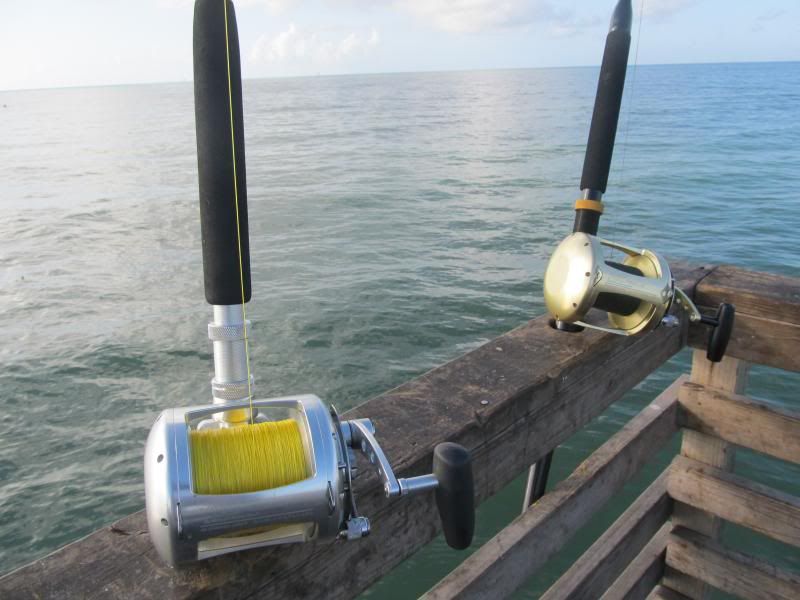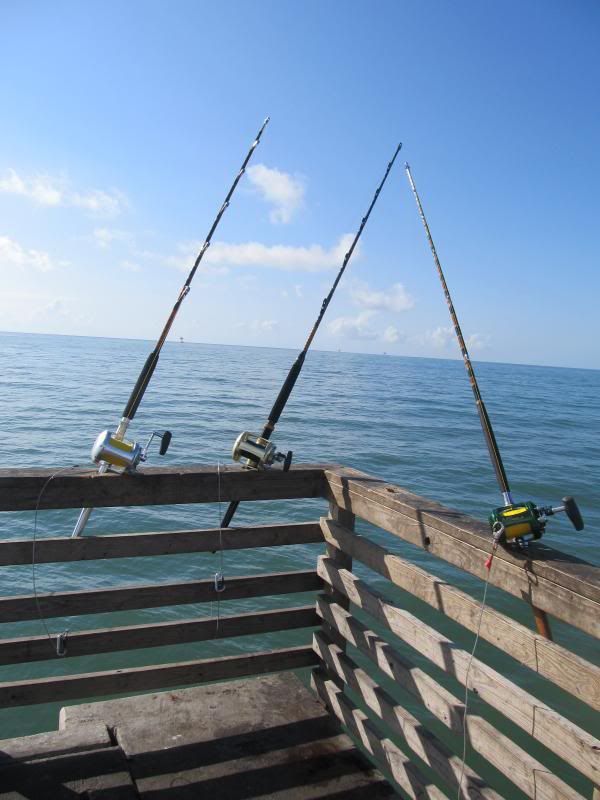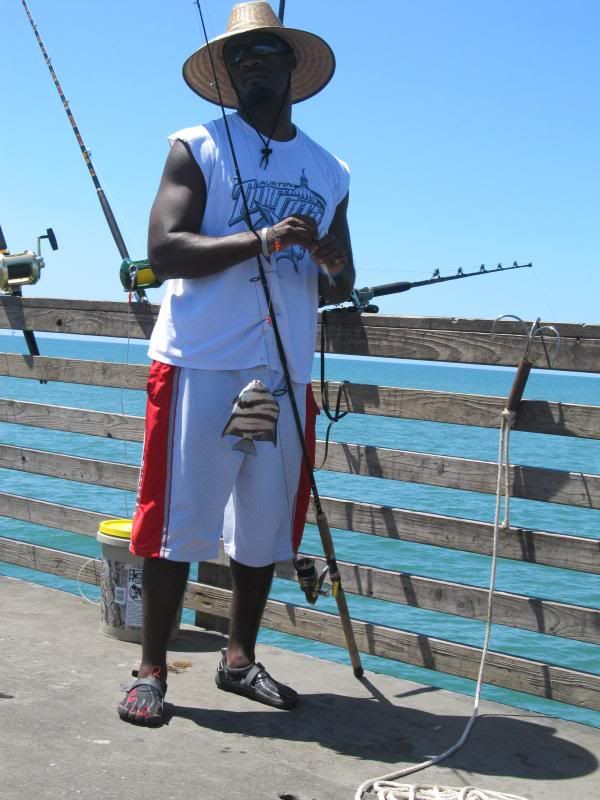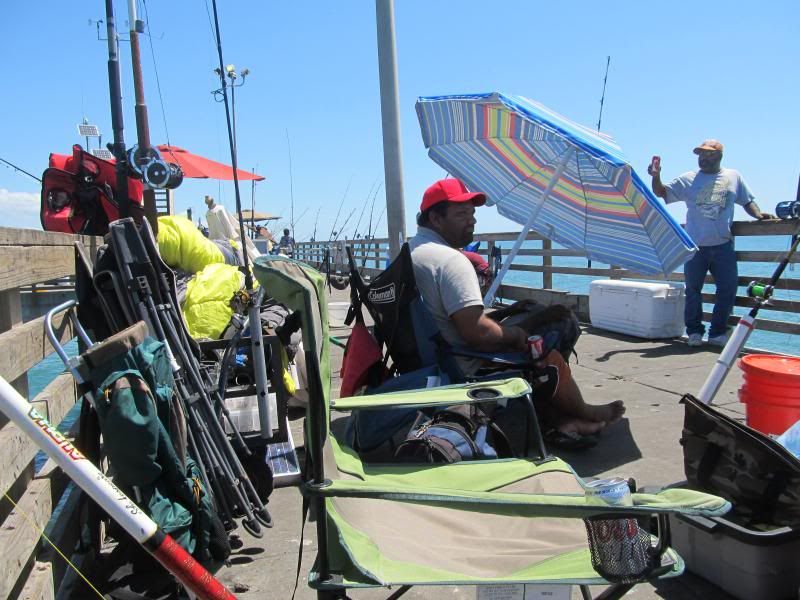 Oh and by the way, can anyone tell me what this fish is? With all the people on the pier who fish all the time, nobody was able to tell us what it was.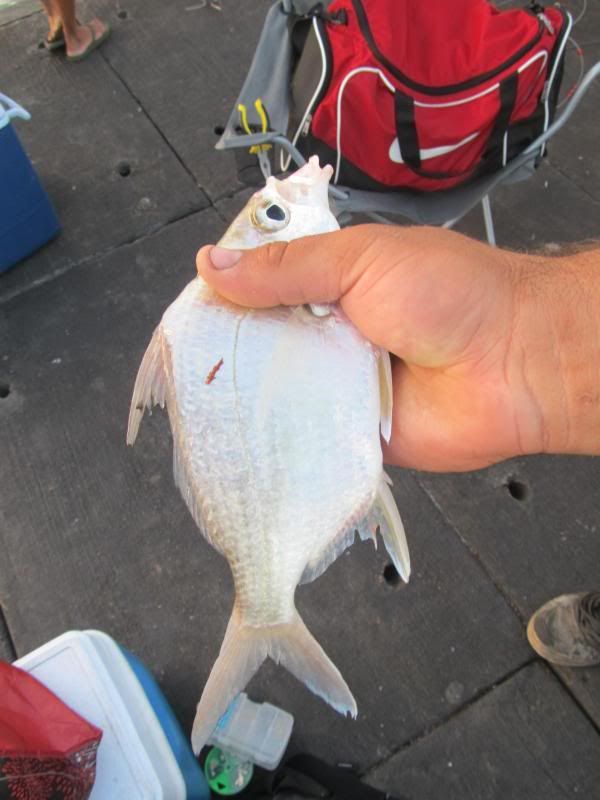 So we reran baits and what do you know, boats stopped being an issue, but sailboats became an issue. My brother a had a beautiful Jack/Tuna combo out 1000+ yards that was cut off by sail boaters. We still had some baits out though a good distance that were holding well. Seaweed was still rolling in, but it never got heavy enough to knock any lines out. We then went to rest after a long and exhausting day of trying to save our lines and being exposed to the scorching sun.
Sunday 7/14
Sleep was still hard, but you're always exhausted the second night. I'd wake up here and there to check lines but that was about it. Tarpon started making their appearance around the T-Head, but they were being smart. I slide lined a pinfish that they didn't bother with. I slide lined a horse mullet that a couple of them circled but never hit. Oh well, maybe one of these days.
Sometime during the night, whilst I was completely asleep, Manuel hooked a pup Tiger. It was around 4ft long but it spat the hooks as soon as it got up to the pier. I took that as a good sign though, to not only have a big female Tiger caught earlier but to also have smaller ones roaming the area. Also, sometime during the night Roy hooked up on a fish on his 80w on a fresh piece of Jack. However, the fish was holding on to the bait. When the fish reached the sandbar it became a complete stalemate and it let go of the bait. Ah, the hold hit it and quit it approach that these sharks seem to be taking.
Finally the sun came up and I was awaken to…well, a mess. We were on the right side of the T-Head and my 80w and my brothers 50w had floated all the way across to the left side of the T-Head. It was weird, I blamed it on current but there were a lot of rods still holding steady…somewhat. The seaweed had a bunch of rods on the left side tangled amongst mine and my brothers. After some careful maneuvering me and my bro got lose, but they were still having to deal with other reels. To get free of another tangled line I had to crank up the preset on my Avet. Normally when I do this I hold the spool with my bare hands, put the reel in free spool, then adjust the preset. I wasn't wearing gloves, I forgot how slippery wet mono could be and my line was tight, so I made a careless mistake that got me two blisters on my hand. Reminds me of when I caught that 7 footer last year and foolishly thumbed the line…
Anyways, after cranking my preset up I broke free of that line and was finally home free to crank in my line. 50lbs of drag and low gear had me bringing in everything with no problems. Hmm, seemed like my rod bumped? Eh, must have been nothing. I continued reeling, and thought I felt something else. Eh, must have been my weight bumping the bottom, whatever. I started to get closer to the T-Head and something didn't seem right to me. Why is my line shifting? Why am I feeling some resistance? …why is my line shooting to the right…oh. With my presets cranked up and my reel in low gear obviously whatever I had didn't stand a chance. My line shot to the right and I felt some heavy head shakes. It was just a simple game of tug of war, and I was winning. I alerted everyone to a shark being on my line and it finally decided to surface. The brown coloration and shape of the head was a dead giveaway, another Tiger. Although the shark stood no chance against the reel it was still mano a mano and I had to hold my ground against the sharks thrashing. I don't know how long this shark had my bait, but it was fully energized. She came to the left side of the T and due to a rod being in the way she found the opportunity to shoot under the pier, wrapping herself around a piling, but luckily the 600lb leader had no problem handling it while the shark unraveled itself. We finally got the shark under control and got her up effortlessly. Measurements were taken and she taped out at 7'8". Tagged her and sent her on her way, where we watched her chill for a bit before finally swimming off to grow a little bigger. Even though it was just a 7 footer, it's great in a place like Texas where 90% of reported catches are 5-6 foot. And a Tiger at that. Two Tigers in two years, and my very first shark on my new reel (which is nice since the very last shark on my last reel was my 9'8" Tiger).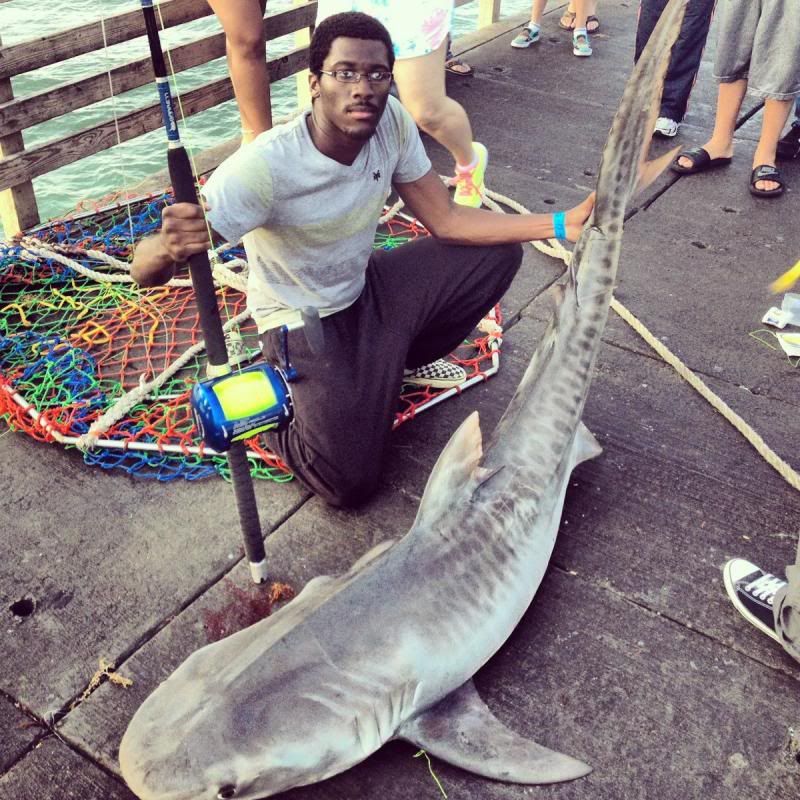 Well, this marks the end of another good trip. The species and size of the species that were caught made up for the lack of quantity. It's great to catch a bunch of 6ft Bulls and 5ft Blacktips. But catching one near 8ft Tiger myself and a 9ft Tiger by someone else more than makes up for the lack of what's normally a slew of smaller sharks. These hits came at three times. Hits came at sunset, in the middle of the night, or sunrise. None of the yakked baits got hit in the heat of the day.
We weren't the only ones who did well this weekend though. A 9'2" Scalloped Hammerhead and an 8'2" Lemon were caught in Galveston this weekend from some people in Clints camp; while an 8'2" Tiger was caught down PINS by someone in Johns camp. If people fish hard then I expect we'll hear more great things between now and October. We've been catching fish this season, just not any bigger than 6ft. And I've been on a dry spell, so I'm happy about this fish. If you fish Texas then go soak some baits, because the big boys and girls are roaming the water right now
~Peace~